(The Picket) – The Bridge Gallery, at 8566 Shepherdstown Pike, opened an exhibit featuring works by Gary Bergel, Homer Yost and Judy Rand. Their works will be on display until Oct. 8th and feature sculptures, paintings and photography.
Yost is a local sculptor who has participated in the Figure Drawing Show the past three years. He uses models to help him create molds for his work and although the molds often get broken in the process, the work that comes out of it is amazing. The smallest of his pieces on display took him about three sessions, totaling about 20 hours of work. His favorite piece featured in the exhibit is titled, "Shape of My Heart" an exquisite piece of a girl sitting naked with her legs tucked off to her side.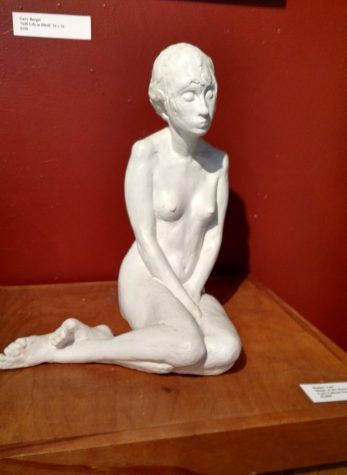 Bergel is a mixed media artist. The exhibit features not only some of his paintings but also some of his photography as well. He said his work focused on an "interaction between sky and earth that I don't completely understand… It's more about seeing and what that really means."
He said that most of the inspiration he gathers for his work comes from "things people would normally ignore like quackgrass or weeds," finding beauty in the things people don't pay attention to.
He said he also found inspiration through working with veterans, finding a new passion for painting after having seen them "so free and unencumbered." He said that he grew up in a small town that didn't put much focus on art, despite this he has always had an interest in art, opening a photo studio at 16 and taking wedding photos to help him pay his way through college.
"I didn't have an art course till I was a sophomore in college," he said, which is when he truly began to explore other artforms outside of photography. His favorite piece on display is called, "Elegy to Leonard Cohen" giving tribute to the Canadian singer and songwriter.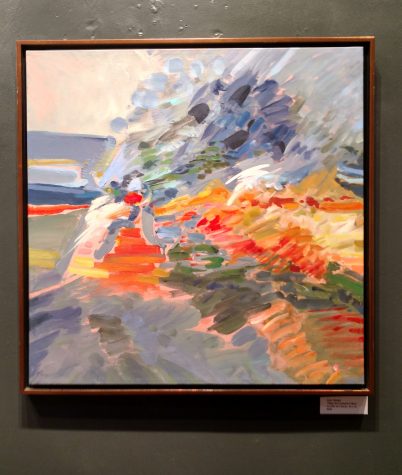 Rand is a woodworker and a painter. The exhibit features many of her landscape paintings. She said that her career as a painter started by making furniture. She's been making furniture for about 40 years and would sometimes have to paint it. Through this she discovered her love for painting. She uses a technique called scumbling, a dry brush technique that, "gives a feeling of distance," she said.
She said that her favorite thing to paint are trees, enjoying the sense of security they give and the quietness they offer. She said that when it comes to a color palate she tends to stick to "local colors and then push that. I'm not a literal painter, it's not completely realistic but it's still there."
Her favorite piece in the exhibit is a piece titled "Dark Hollow Lane Winter," which features a beautiful scene she had seen outside her home of dark trees creating a web of branches, scattering the view peeking out from beyond.