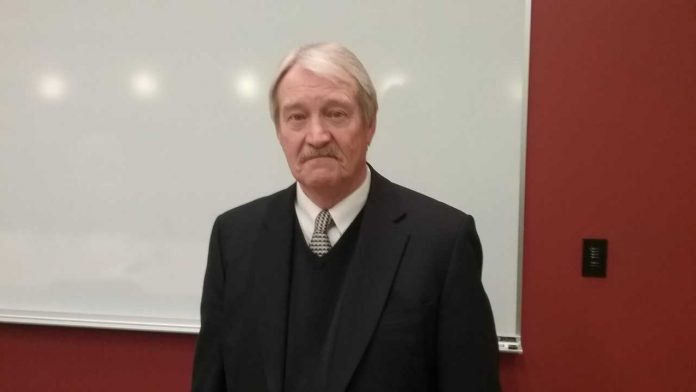 After 31 remarkable seasons, Monte Cater, 68, is retiring as the Shepherd Rams head football coach.
Former offensive coordinator Ernie McCook has been named Cater's replacement.
Cater led the Rams to a 245-93-1 record during his tenure. He was the winningest active NCAA coach at all levels.
His retirement was announced Wednesday.
"Today, January 24, 2018, marks the end of the remarkable coaching career of Monte Cater and the beginning of his extraordinary legacy at Shepherd University, as the torch passes to Coach Ernie McCook," University President Mary J.C. Hendix said.
A visibly emotional athletic director Chauncey Winbush lauded his former coach.
"For the last 31 years, Shepherd University has been blessed to have been led by not only a legendary coach, but a legendary person. I am deeply humbled to have played for, coached with, and most recently, tried to supervise," Winbush said to laughs from the audience.
The announcement was made in a carefully choreographed press conference in the Erma Ora Byrd Hall auditorium. Members of the football team were asked to enter the auditorium first to speak with McCook while members of the press waited outside. Once McCook spoke with his players, the press was brought in.
Cater brought a lasting image to the Shepherd University football program, winning 17 conference championships, six undefeated seasons, and has the most wins (245) by any collegiate football coach at a college or university in West Virginia.
Winbush stressed that continuity was extremely vital in his coaching search, which is why McCook was always at the top of the list.
A video tribute to Cater was played, showing photos of him during his years as a Shepherd coach.
Cater expressed his appreciation of his time at Shepherd. He said the rigorous work schedule factored into his decision to retire, along with his desire to spend more time with his family.
Mountain East Conference (MEC) Commissioner Reid Amos expressed nothing but praise for Cater.
"I can share with you unequivocally that there is no man I have encountered in my nearly thirty years of athletics than I hold in higher esteem than Coach Cater," Amos said. "Retired or not, Coach Cater is and always will be 'Coach' to me."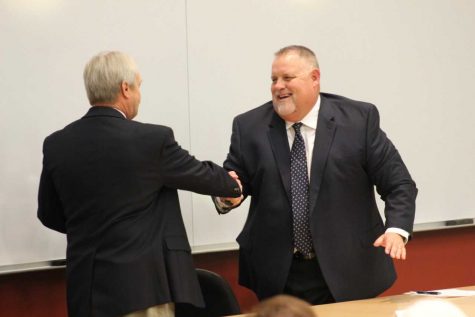 Shepherd football players were quick to respond to the news.Justin Cole, a redshirt sophomore defensive back, had this to say about the change in coaching staff.
"I am very thankful for Coach Cater for giving me the opportunity to continue my football career here at Shepherd University," Cole said. "Over the past three years I have learned a lot from being a part of this program. Coach Cater always reminded us to take care of the small things first, and to just worry about our jobs. Those are things I not only apply to football but to my everyday life."
Junior wide receiver Wanya Allen supported Cater's decision.
"I feel like it's was tough for Coach Cater to retire because he loved the program and treated us as his family," Allen said. "However, it was best for him and his family to hang up the clip board and start a new chapter in his life. He's been coaching for 31 years and was always busy with his own teams and now he can be a fan of the game in a different aspect."
Allen is thrilled to be working with McCook.
"I'm excited to see coach McCook as the head coach because I know things aren't going to change one bit," he said. "He's been with Coach Cater for a good amount of years. I believe our team will be just as successful with coach McCook leading us."
Tight end DJ Cornish, a redshirt sophomore, said it was bittersweet to see Cater leave.
"Playing for him these past few years has been a true honor and blessing," Cornish said. "He was selfless, dedicated, and humble. Its gonna be tough knowing he's not gonna be here anymore but I'm truly happy for him."
Cornish also gave his thoughts on how McCook will be able to guide the Rams going forward.
"It's great that we replace him with a coach that we're familiar with," Cornish said. "I have no doubt Coach McCook will keep this program on the straight and narrow. He knows the team, the system, and the culture. I mean he's been here the whole time so I don't see us falling behind at all."
Sophomore defensive back Tim Womack was depressed to hear that Cater was retiring.
"It's kind of sad losing him, he was one of the best coach that I have played for and been around," Womack said.
This sentiment was carried by many players in attendance at the press conference, as it hit them that they were losing not just their great coach, but an even better man.
Anthony Bracken is the sports editor of The Picket. He can be reached at abrack02@rams.shepherd.edu