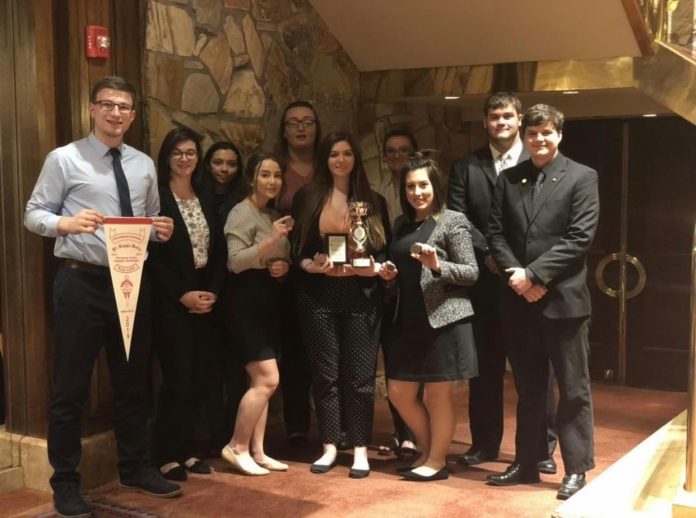 This past weekend the Shepherd University Debate team traveled to Long Island, New York to compete in the Pi Kappa Delta Biennial Tournament National Championship Tournament. The team had an outstanding performance led by Miranda Jones who made it all the way to the final round.
The team won several national awards at the tournament that was comprised of 77 schools and over 1,600 entries. The Phi Kappa Delta is the largest national debate tournament in the country. Shepherd placed in the top 30 as one of the best schools.
Jones won eight rounds in a row becoming the #1 seed in the National Debate Tournament. In the quarterfinal round she won on a 3-0 decision against Montana University. Jones advanced to the final round after defeating Transylvania University on a 2-1 decision. In the final round Jones went up against Seed Emerson University and lost in a close split decision 2-1.
Jones also placed 14th in the country in the subject radio broadcasting and 12th in interviewing.
Jones also placed 14th in the country in the subject Radio Broadcasting and 12th in Interviewing.
Spencer VanHoose and Madison Ronevich placed 12th in the country in the National Parliamentary Debate. The two competed in some tough rounds against some big schools like the University of Kentucky, Boise State and Tennessee State.
IIynn Brennan and Aubrey Duckworth competed in the Dramatic Duo Interpretation and finished in the top 25 in the nation.
Samuel Brown the Director of the Debate team had nothing but great things to say about the team. "An incredible feat for a program of our size. We could not be more proud of our students commitment to excellence, representation of Shepherd University with integrity…" Brown said.
The team will look to earn more national awards win they compete in the PCSDL Nationals at Butler University next month in April.
Justin Cole is the Editor in Chief of the Picket, he can be reached at: jcole07@rams.shepherd.edu