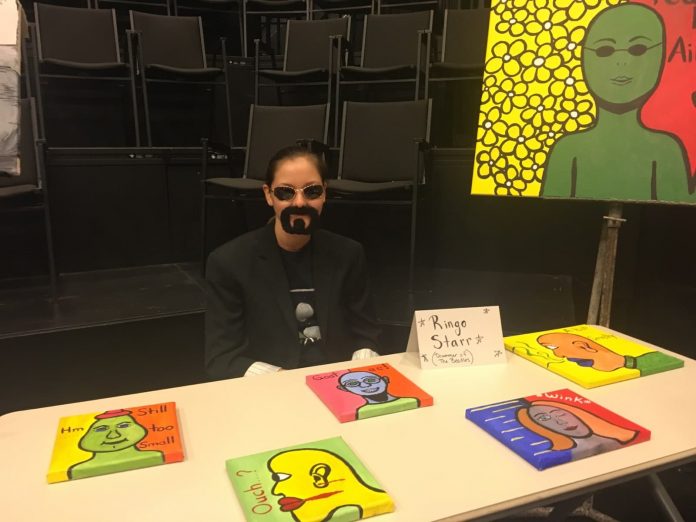 Art styles ranging from Ringo Starr to Philippe Druillet were auctioned Tuesday in the Marinoff Theatre as Shepherd University students vied for recognition.
"I just like the simplicity and the comedic aspect of art. The art world tends to be very serious so it's nice to have some lighthearted stuff," said Grace Baldwin whose art was in the style of Ringo Starr. 
Another art student, Hunter Garcell, did pieces and sculptures in the style of Philippe Druillet, who is a co-founder of Heavy metal magazine, an art publication that features indie sci-fi artists, and is also known for his comic design specifically his imaginings of H.P. Lovecraft's short stories and novels. 
Garcell said that he picked Druillet because, "I love how much he overworks his art, everything is so high-detail. Even if it's unrealistic that's a style I try to achieve."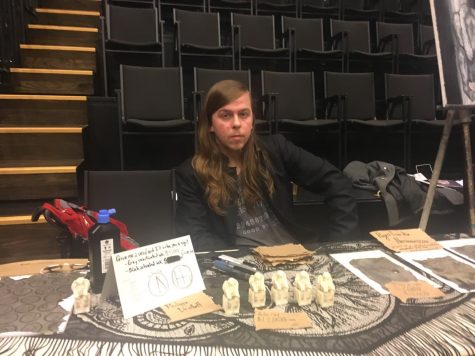 Faux Show is an art display and final project for Shepherd art students in which they impersonated an artist of their choice and then auctioned pieces of art that they made in the artists' styles. The event was held Dec. 3 and was for Shepherd students and faculty. 
Cassidy Ponton, a participating art student, did performance art in the style of Marina Abramović. She picked Abramović because as Ponton said, "She is radical, intuitive, and authentic. She also brings out the most vulnerable part of her viewers." 
"I wanted to put my everyday work into my art, I'm dedicated to doing what I love as my profession." Ponton is an exotic dancer and said that she felt inspired by Abramović. 
The event was held from 7 p.m. to 9 p.m. It started with people spinning a wheel in a lottery type system to get fake money which they could purchase a small piece of art from one of the many displays. At 8 p.m. the auction began, at which point attendees could purchase the larger pieces of art that were on display. 
After the event ended, all of the participating students could use the fake money they acquired to get free art supplies from their professor.