After 23 years of teaching at Shepherd University, and 12 years of teaching at the University of Illinois at Chicago, Jim Lewin is to retire at the end of the spring 2018 semester.
As a young man growing up in Chicago, Lewin did not originally want to be a teacher.
"I dreamed of being a writer, a poet or novelist," he said.
But as many life stories, the destination is often circuitous and unexpected. Lewin's journey to Shepherdstown was by way of Taiwan, Israel and Lebanon.
He taught English in Taiwan to dodge the draft for the Vietnam War. Upon returning to the U.S., Lewin worked several jobs including driving cabs and ambulances, then left the U.S. again to hitchhike halfway around the world.
He spent eight years in Israel where he did most of his freelance writing in journalism.
He was in Israel during the 1973 war during which he helped build bomb shelters and during the 1982 war when he did freelance reporting.
"I was in southern Lebanon and Beirut, that is my great claim to fame," Lewin said.
"Graduate school was okay but when I got to the doctorate level it was really a lot of work, a literal full time job," he said.
Lewin was working as a teaching assistant, going to school and working on his dissertation, which took him many years to finish. He had a campus visit and interview in the summer of 1995 at Shepherd University and was offered his first full-time teaching job over the phone when he was 49.
"I had my cat in the backseat and my computer in the trunk and I left Chicago behind," he said. "The only reason they hired me is because I had a dissertation in Shakespeare and a freelance background. Without the freelance writing background, they never would have hired me," Lewin said. "Only one in three Ph.D's get a tenure track job in English."
English professor Sylvia Shurbutt hired Lewin.
Shepherd's administration sought to begin a journalism program in the 1990s, but a consultant recommended that instead, a minor in journalism be paired with an English major. Advertisements were placed, she said.
"Jim was absolutely the best person for the job–he had a wealth of personal experience as a journalist covering the Lebanese War, he was a Shakespeare scholar and Ph.D., and he had a winning way that we knew our students would thrive with," Shurbutt said. "One of Jim's great abilities is to encourage classroom discussion and to bring all students into the circle. He is a man of amazing erudition, and this wonderful combination of practical journalistic experience with his English literature scholarship and background was just perfect for Shepherd."
Lewin started his teaching career with Shepherd in the fall of 1995. He has taught journalism and Shakespeare; several English courses, a course on Bob Dylan and other Chicago writers. Whenever he taught Writing and Rhetoric II, he used Shepherdstown as his topic.
He didn't study journalism academically. "I learned to be a journalist by doing," he said. "I realized I could actually be published and make money in journalism so I did that."
Lewin was the faculty advisor of the university's newspaper, The Picket, from 1996 until 2014.
"The Picket had been in a rather disorganized state in the several years before Dr. Lewin's coming," said English department chair Betty Ellzey. "Dr. Lewin brought a level of professionalism and commitment to The Picket, mentoring the students so that it became the great student newspaper it is today. He has been the mentor for dozens of journalism minors in their internships, many of whom now work in the field of journalism."
It wasn't easy, Lewin admits.
"I had a lot of ups and downs with The Picket, but I worked with some amazing students and I did my best to make sure the articles we ran connected with the campus," he said. "I really feel grateful to have had the experience to work at Shepherd, this university has a noble purpose and I am happy to have had the chance to contribute to it."
"We will all certainly miss Jim," Ellzey said. "In addition to being a professor, he was the Faculty Senator for the Department of English and Modern Languages and a member of the Diversity and Equity Committee. He has always been committed to social justice and high standards in the profession of teaching. He is thoughtful and wise, but with a great sense of humor."
Lewin advises his students to embark on lifelong learning.
"You are all precious," he said. "Cherish your degrees, no one can take that away from you, but continue being a student of life, and learning."
He is taking his own advice.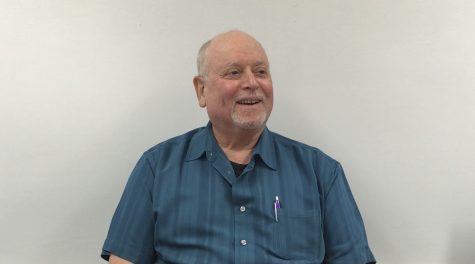 "I want to write," he said about his retirement. "I have a lot of ideas, but I'll have to see where the road takes me."