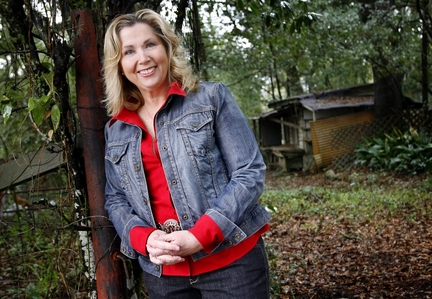 Karen Spears Zacharias is attending the 2018 Appalachian Heritage Festival to accept the 2018 Appalachian Heritage Writer's Award. Zacharias is the 20th writer to receive the award at Shepherd University.
Zacharias's novel, "Mother of Rain," is West Virginia's statewide common reading selection for 2018 fall semester. The novel tells the story of Maizee Hurd, who lives in eastern Tennesse and suffers through the early death of her mother and birth of her deaf infant son, Rain. The novel is the first in Zacharias's "Christian Bend" novels. Zacharias tells that there were times when she was surprised by what she wrote.
"There's a funny story that happened to me while writing Mother of Rain," Zacharias said. "There's a scene where Maizee slaps Burdy and I swear that up until the moment I wrote it, I had no idea that it was going to happen."
"Mother of Rain" was adapted for the stage by the Spring Theatre in 2016 by artistic director and playwright Paul R. Pierce. Zacharias did not write the script, but she did attend a performance of the play.
"It was the highlight of my life," Zacharias said. "Seeing my creation inspire creativity into others was enchanting."
Zacharias hopes to reach more than just residents of Appalachia with her writing.
"My sincerest hope is that readers come away wishing they could pack up and move to an Appalachian community," Zacharias said. "Where grace cuts through the mountains and soaks the lands and the people in kindness and humble beauty."
Zacharias will be giving a reading followed by a book signing on Sept. 26th at 7 p.m. in the Robert C. Byrd Center for Congressional History. She will be receiving the Appalachian Heritage Writer's Award on Sept. 27th at 8 p.m. in the Erma Ora Byrd Auditorium