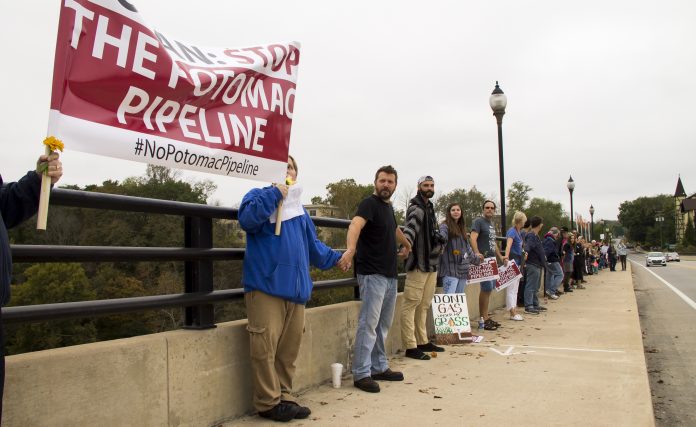 (The Picket)- More than 350 people held hands and stretched across the Rumsey Bridge over the Potomac River in Shepherdstown on Saturday to protest proposed construction of a gas pipeline that would span the river.
"We raised a huge amount of awareness in the region about the proposed pipeline," said Tracy Cannon of Eastern Panhandle Protectors, which helped organize the march. Cannon, an environmental activist, spent weeks knocking on doors to tell people about the danger of the pipeline. "Share your opposition to new fossil fuel infrastructure. We are only digging ourselves in deeper with each new unsustainable project like this pipeline," she said, noting that Saturday's crowd exceeded her expectations by more than 100.
Some 6 million people rely on the Potomac watershed for drinking water and are considered at risk by pipeline critics. Property owners also are at risk as their residences are in the path of the pipeline, a 10-inch distribution line that would run 56 miles through the Jefferson, Berkeley, and Morgan Counties of West Virginia.
Patricia Kesecker is a West Virginia landowner whose farmland is sought out by Mountaineer Gas to install the pipeline across. The Kesecker family rejected the request, and went into a lawsuit filed by the company for eminent domain rights. Kesecker shared their story at the rally.
"Yes, we're getting paid. But that wasn't the thing to start with. It is our heritage. It is our land. My husband is a true steward of the land. No amount of money equals what they're going to destroy," she said.
The Mountaineer Pipeline would connect to the TransCanada feeder pipeline in Northern Morgan County. The current planned route would cross about 100 creeks and wetlands, including Back Creek and Sleepy Creek. It requires 140 landowners rights to complete the pipeline, according to Eastern Panhandle Protectors.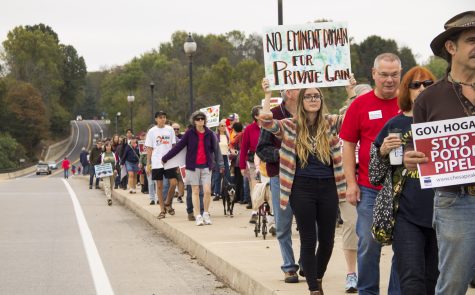 As people walked across the bridge, holding their signs high and their spirits higher, cars zoomed past honking in support. Once everyone spread across the bridge, they all joined hands, connected as one people standing up for their beliefs. Each person was given a flower to be ceremoniously thrown into the river in conclusion of the rally.
"I oppose the pipeline because of the large potential of environmental harm. This gas pipeline would not even bring many jobs to the area," said Ciera Clawson, a Shepherd University student studying environmental science.
Clawson said it's crucial for students, and people of all ages, to support the switch to renewable energy sources that are reliable for generations to come. "College students can have an influence just as equally as anyone. Whether it's calling your local politician or being involved in protests, every voice matters. We are the future, so we especially must have the courage to voice our opinions if we want to see change," she said.
Madison Hale is a Student contributor to The Picket and can be contacted via email at mhale03@rams.shepherd.edu.