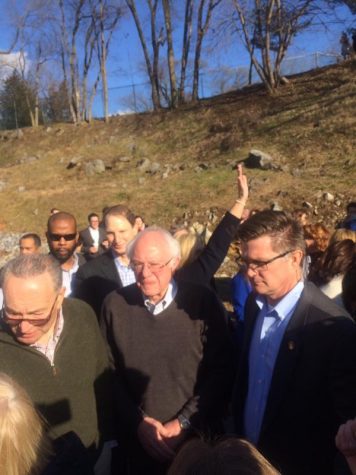 (The Picket)-
Dozens stood outside the Bavarian Inn Thursday to encourage U.S. Senate Democrats meeting in the Inn to oppose President Trump's policies.
The protest was organized by the West Virginia group of the Women's March on Washington on social media earlier this week and is set to last until 7 p.m.
"If we let our hope down, we let them win," said Logan Clem, a Shepherd University sophomore from Leesburg, Va. "If we let our hope down we let them win. If we let them win we give up on our neighbors."
Holding signs that read "West Virginia weeps for Standing Rock," "Go Dems," "Be my valentine, Bernie," and "I am a public servant not a political target," the marchers waved at passing traffic. Some drivers responded by blowing their horns in support.
Jen Koogle, 44 of Boonsboro, Maryland, and Shepherd class of 1998, stood on the windy sidewalk passing over the Potomac River, and said, "Basically, we're living in an upside down world. We have media gag orders, money being taken from research, all of these things being taken away from us. It's not right. We can't live in a world of alternate facts."
Thursday morning a crowd of Senate Democrats that included Sen. Bernie Sanders, D-Vermont, and Senate Minority Leader Charles Schumer, D-N.Y., came out to meet with the marchers and express their support.
Marchers cited many reasons for coming out Thursday.
"Women's issues are under attack," said Lisa Crohe. "as it always is from Republicans, but this time it's different … it's real."
Jimmy Horn, a 2014 Shepherd graduate, said the recent federal hiring freeze is hurting him. He said he came out to support the U.S. National Parks Service, which has been forbidden by the Trump administration to talk to the media.
Shepherd sophomore Nick Mantegna said he was there "to show my rights."
Susan Johnson, 68, of Martinsburg, said she was there to let the Democratic leaders to know that she is depending on them. She said she participated in Saturday's Women's March on Washington, but before that has not felt the need to protest or march since college.
Ginna Bird, said she came out for just a few minutes to show her support. "I only had 30 minutes," she said. "But I had to do something. I'd regret missing this."