Last fall, The Picket reported on the progress of the then proposed chimney swift tower to be built on campus. This spring, the tower has been completed and is ready for swifts to roost in it.
The tower is 30 feet tall, and adjacent to Dunlap Hall on the far west side of campus. It is next to a small flowing stream, surrounded by a storm-water retention pond, which will be a perfect feeding ground for the birds. Swift diets consist of insects, and so they act as a natural pest control.
Shepherd University's Sara Cree Hall once served as a roosting site for the birds, but with its demolition in 2017 that habitat was loss. This new artificial 'chimney' was erected specifically for the birds, after concerned bird-lovers voiced their concerns. The tower was built thanks to Potomac Valley Audubon Society, a local branch of the National Audubon Society.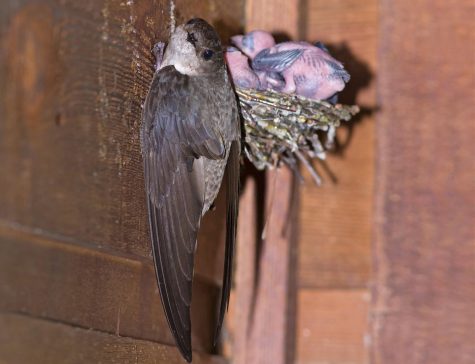 Chimney swifts are a species of bird that require vertical walls to roost. Historically, dead old-growth trees provided this habitat. With the loss of most of the old-growth forests on the East Coast, swifts got creative and started using brick chimneys. In modern times, those chimneys are hard to come by.
Katelyn Walters, land and conservation manager at Potomac Audubon, said ideally the tower would have been built before Sara Cree Hall was torn down. "That way the Swifts would never have been without roosting habitat," she said. "Due to a series of setbacks, we were unable to construct the tower for nearly three years after the deconstruction of Sara Cree."
Walters said that while funding still is not completed, they took out a loan to get the tower up before the swifts made their annual migration north, otherwise the birds would go without their habitat for an additional year.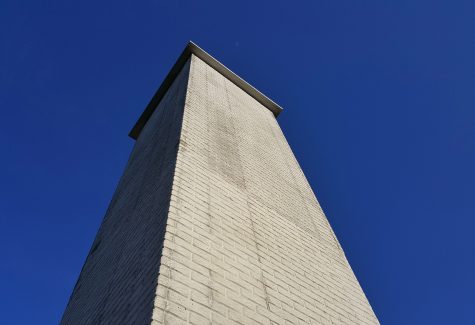 The tower originally was intended to be brick, but to save money Walters said they used pressed concrete. The concrete was stamped to mimic the texture of brick, so the birds would have 'footholds' needed for roosting and nesting, Walters explained. The tower took about three weeks to build.
Though there are no local sightings of chimney swift's yet, Walters said they are in route. "We should see them any time now, and hopefully they will find the new roost," she said.
Late this summer, the Potomac Audubon will be hosting A Swift Night Out, an event to celebrate the swifts, Walters said. More details will come as the event nears. The event will also be a fundraiser, as Potomac Audubon has not yet finished paying for the tower.
To learn more about the project or donate, visit the Potomac Audubon website.