(The Picket)- Everyone influences others no matter how insignificant the encounter, a woman who went from living on the streets to the halls of Harvard told Shepherd University students Tuesday, Oct. 3.
"You never know when you are one decision away from changing your life or someone else's," said Liz Murray, who wrote her memoir, "Breaking Night," about her journey.
Speaking to students and community members crowded in the Frank Center, Murray described how she grew up in the Bronx, the child of two drug addicts. When her mother died of HIV and her father moved into a homeless shelter, Murray found herself sleeping on rooftops and subways.
"Emotionally, in my gut, I shut down. I was dragging around this feeling of 'why bother?' And that's why I think it's really important to share what happened to me so others will know that they are not alone," she said. "I started calling up guidance counselors and asking if I could talk to some of their students thinking that maybe, I don't know, they won't give up."
She explained how important it was to just help those around you. She asked the crowd if they had ever heard the term bootstrappers. "You pull yourself up by your own bootstraps. You take care of yourself and it's dangerous," she said. "You miss how powerful it can be to help someone else."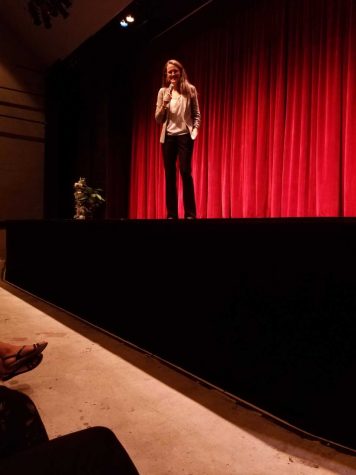 As she began to think more of helping others she became obsessed with the question of what it takes to change a person's life. As an example, she shared the story of her friend who worked in a public school. Her friend had told her that this would be the year that she would change a student's life, to which Murray couldn't help but respond, "Whatever you've done in the last two years did change a student's life. You have an impact on people, that's not a choice."
Whether it be a simple smile in a hallway or rolling your eyes when someone else speaks, she said that everything has an impact, good or bad.
"I think the good and the bad happen side by side," Murray said.
Murray's book is the common reading for Shepherd and students are encouraged to enter the student essay contest about the book. The winner will receive $350 toward Shepherd tuition or the purchase of an education-related device or tech gadget.