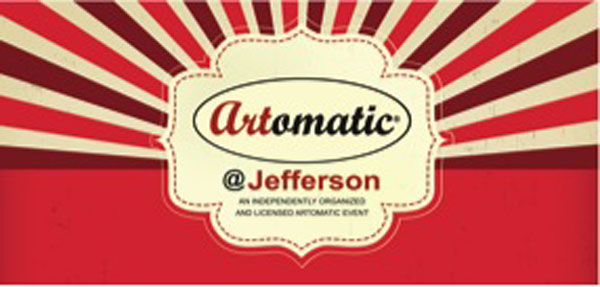 The D.C. area's largest art festival is coming to the Eastern Panhandle showcasing over 46 regional artists and performers, open to the public and free of charge.
Artomatic came to the scene in 1999 at the Manhattan Laundry building in Washington, D.C. as an event where local talents could come and publicly display their work. Since its first debut, Artomatic has surpassed its original 20,000 visitors and in 2008 Artomatic wowed participants by attracting a record-breaking 52,500 visitors.
In 2009, Artomatic celebrated its 10th anniversary, which resulted in the organization's biggest turn out to date with over 1,000 visual artists exhibited and 600 performances. Artomatic has branched out to other regions of the tri-state area since then and in September of 2011, Frederick, Md. launched Artomatic@Frederick, bringing the arts to a more rural community. Now, Artomatic makes its way to Jefferson County where it will be held for the first time at the Rock and Tile building located at 154 Wolcraft Way, right off of Route 340 in Charles Town, W.Va.
The festivities kick off Thursday, Oct. 3 with an invitational preview opening at 7 p.m. The public grand opening will take place Friday, Oct. 4 at 5 p.m. All other events will continue regularly throughout the month of October every Friday and Saturday from 11 a.m. to 10 p.m. and every Sunday from 10 a.m. to 6 p.m. with a total of 62 events.
Kids' art at Artomatic@Jefferson will take place every Sunday from 1 p.m. to 3 p.m. featuring wooden crafts, printmaking, community quilt and mask making.
All of the featured exhibitions are open-entry works, which will display a variety of different talents including visual art, poetry readings, musical performances and various films. Featured performers include musicians Victoria Hopkins, Chelsea McBee, Angie Jimenez and a reading by poet Ed Zahniser.
"We're delighted with the number of artists eager to participate," said Ginny Fite, director of Artomatic@Jefferson. "We have over 30 artists from the Eastern Panhandle of West Virginia alone," Fite said.
Artists who will be featured must be at least 18 years of age and display art work that is a product of their own creativity. Additionally, all participants must contribute a minimum of 15 hours of volunteer work.
Although the registration deadline for enrolled college art students is closed, Artomatic@Jefferson is still looking for volunteers.
Volunteers may select what kind of work they would like to help out with. Currently, Artomatic@Jefferson is seeking volunteers for the following:
• Greeting visitors
• Artomatic@Jefferson store set-up and staffing
• Participant communications (event guidelines, updates)
• Tour manager/scheduler
• Tour guides
• Graphic design
• Photo/video production
• Website – Jen Rolston, Eden Design
• Social media
• Advertising
• Merchandise
For more information on getting involved in this event, visit http://artomaticjefferson.com/ or contact Ginny Fite, director of Artomatic@Jefferson.
Phone: 304-261-0164
Email: gnnfite9@gmail.com
Artomatic@Jefferson creates a community experience through establishing a local audience and turning what is nothing more than an empty space into "a playground for artistic expression," as it is referred to on their website.