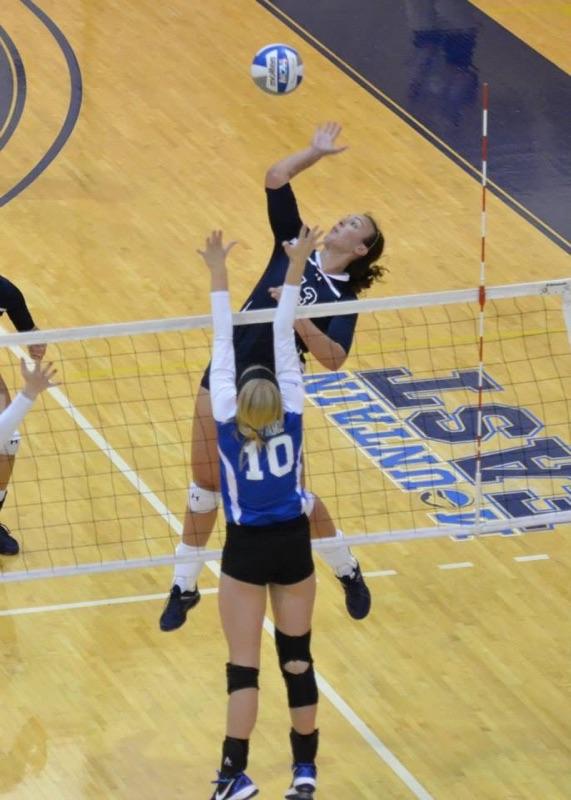 (THE PICKET)—Anna Roper is a senior outside hitter/opposite on Shepherd's volleyball team. She is a recreation and sport major with a concentration in sports marketing and an avid member of Program Board. While being a four-year student athlete, Roper also carries a 3.74 GPA.
Roper started playing volleyball for her middle school in sixth grade. She then joined a travel team in eighth grade.
"I tried out for the middle school team after it seemed like everyone I talked to was telling me to use my height for a sport. I ended up loving it," Roper said.
She made the varsity team freshman year of high school and started all four years.
"I started getting recruited my junior year, ended up here at Shepherd and have loved every second ever since then," Roper said.
Volleyball has helped me realize the value in every minute of the day from the very beginning. I have learned to take advantage of every hour by planning my day around volleyball and schoolwork to use my time efficiently every day," Roper said of finding time to juggle both sports and school work.
Roper says she takes pride in being a student athlete.
"It's been a hard four years but I honestly wouldn't have it any other way. Volleyball has given me countless lessons in dedicating yourself to something and never giving up no matter how many things add up on your 'to-do list,'" Roper said.
"I constantly write post-it notes to remind myself of where I need to be or what I need to do as well as plan my life out week by week in my planner. It's scary to think I could ever lose my planner because my life would be in shambles," Roper said.
The volleyball team plays most of their games on the road, which is "probably the hardest part of being a student-athlete," Roper said. "It has trained me to adapt to new environments quickly in order to get everything done to the best of my ability."
"Volleyball has driven me to push myself off the court just as much as I do during practices and games," Roper said. "I think that through volleyball I have developed a strong work ethic that is present through every aspect of my life and especially in the classroom."
Through her four years at Shepherd, Roper says she has found some of her best friends through sports.
"The greatest thing this volleyball program has given me is the people. My teammates have turned into sisters over the years," she said. "Being in such a tight-knit community has made all the difference to me and I can't imagine my life without these beautiful people. They inspire me every day."
Roper said that playing volleyball as taught her a lot about life.
"I will walk away with countless lessons to carry over into my life after college but the most reoccurring theme over the years has been to give the best you have in every situation you are placed in. No matter the circumstances, people will respect you if they know you gave it everything you had, and good things will naturally come your way as well," Roper said. "I learned that time is of the essence and it seriously flies by but with a little planning and a lot of hard work you can make the most of every second."
Roper recently took an internship with Frederick County Parks and Rec for the spring and plans to stay in the area after graduation to work in marketing or public relations.