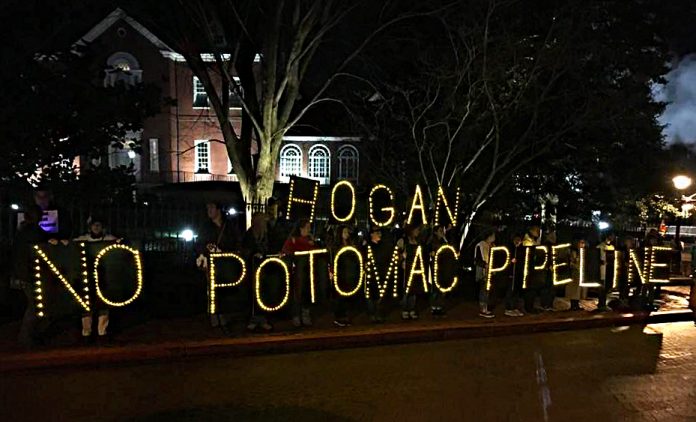 West Virginia landowners near a proposed natural gas pipeline have been invited to meet with environmentalists and concerned citizens on Saturday, April 4, to discuss the project's impact on water supplies. The landowners support meeting will be held on April 4 from 6:30 p.m. to 8:00 p.m. at James Rumsey Technical Institute Assembly Room.
Activists also plan to guide property owners in monitoring any environmental violations by Columbia Gas.
The planned Eastern Panhandle Expansion Project, operated by TransCanada, has sparked opposition along its route in West Virginia and Maryland,
The pipeline would pass under important watersheds including the Potomac River, a water supply to roughly 6 million people mostly in the, Washington, D.C., area.  Multiple protests, rallies, and hearings have taken place over the last year in attempt to halt construction.
At the Maryland public informational hearing regarding the pipeline, held at Handcock Middle School in Washington County, over 300 people attended, according to the Maryland Department of the Environment.
During the written public comment period, the Department received more than 2,400 individual comments. The Department summarized that generally people expressed the "need for project [is] not demonstrated; [there is] no benefit to residents in the area; [are] generally opposed to the project."
On Feb. 15, local environmental organizations collectively organized a rally outside the Maryland governors' mansion in the state capital, Annapolis. Concerned citizens from as far as Cumberland, Maryland, showed up in buses to march around the mansion, demanding Maryland Gov. Larry Hogan deny the permit required for construction.
Not long after the rally, Hogan handed his responsibility to review the 401 Clean Water Act Certification to the Army Corps of Engineers for a final decision. On March 16 the Army Corps issued a permit granting construction.
Activists are disappointed in Hogan's decision and say they are not backing down. Jackie Clark with Potomac Riverkeeper Network wrote in a blog post on their website, "I will be aggressively monitoring this project if it goes forward.  And make no mistake: we are prepared to take enforcement action if Columbia Gas violates its permit."
Activists are monitoring construction and decisions closely to ensure safety for citizens within pipeline zones.
In West Virginia, clearing for pipeline construction in Morgan County began in the end of January 2018, a few weeks before a permit was granted on Feb. 8.
Two Morgan County residents, Susan Taylor Dropp and Laura Steepleton, have filed an appeal asking that construction be done safely and for West Virginia to do an independent 401 Clean Water Act certification. The appeal is underway.
Land easements have not been completed in Berkeley and Jefferson counties and Columbia Gas has not yet received permits. There will be a public information hearing held for each county permit but no dates have yet been set.