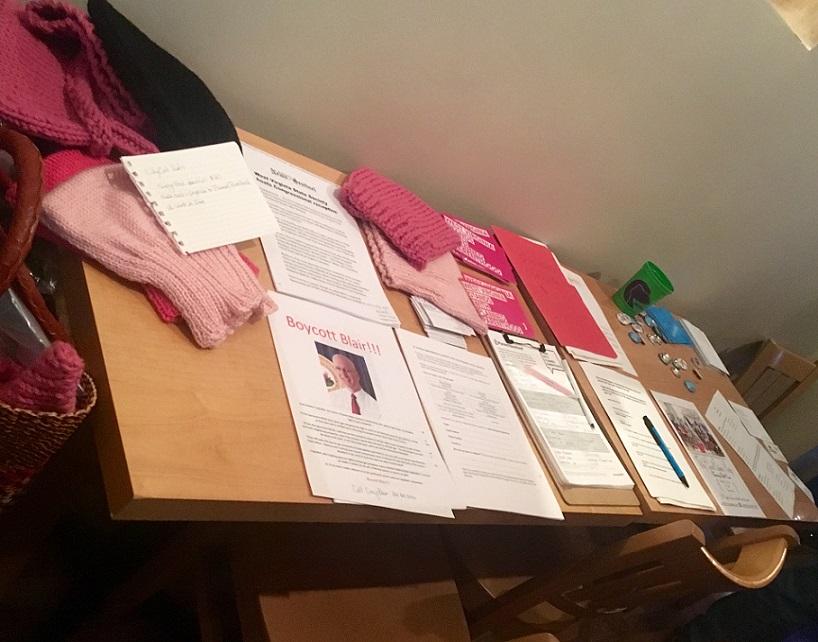 Women's healthcare needs to be protected, a panel of health professionals told a crowd gathered Monday, Feb. 27, in Byrd Center auditorium.
Representatives from the West Virginia Healthy Start and Helping Appalachian Parents and Infants Project, WV FREE, and Planned Parenthood discussed the importance of women's health, the need to preserve Obamacare, and the services provided by each organization.
"People would come in and say, 'I'm really glad I have the healthcare I do. I'm sure glad I don't have that Obamacare!' and we would say, 'Actually, you do!'" said Penny Womeldorff, director of the state's Health Start and HAPI Project, told the group.
One of the main tasks of the HAPI Project is to help enroll mothers in a health care plan and educate them about how the different plans work. In doing this, Womeldorff has discovered that many people don't realize they are insured under former President Barack Obama's Affordable Care Act, or 'Obamacare'. She said that the different names given to the act tend to confuse people and make them think each represents a separate plan entirely.
Emily Thompson, the field organizer for Planned Parenthood's South Atlantic Division, noted that 2.5 million men and women rely on the services provided by her organization. While many Americans equate Planned Parenthood solely with abortion, there are a variety of services it provides, some of which are lifesaving.
More than 20 percent of Planned Parenthood health centers in the United States are in "underserved areas," areas that are low in health care services, Thompson said. This includes the only Planned Parenthood health center in West Virginia, in Vienna.
Thompson said that if Planned Parenthood were to be defunded by Congress, as some have proposed, the services provided there, such as cancer screenings, contraception access, testing for HIV and other STDs, pregnancy testing, and general health care, would be much harder to find for the residents of Vienna and other underserved areas.
There is a bill in Congress which involves taking Planned Parenthood services out of the Medicaid program. This would prevent people with Medicaid from using Planned Parenthood's services at a low or no cost.
Nicole Greene, a representative from WV FREE, said that her group stands for Focus Reproductive Education Equality and seeks to not only protect the health and rights of women in West Virginia, but aims to make West Virginia "more intersectional—a better place for all people."
One of the most important ways WV FREE accomplishes this, Greene said, is by teaching not only about reproductive health, but about healthy relationships in general. "Living in the Bible belt, it is hard to have comprehensive health education," she said of West Virginia's tendency to mix religion, education, and politics. WV FREE seeks to provide an unbiased education, so that "women in West Virginia have the opportunity to make health decisions themselves."
Planned Parenthood and WV FREE are urging Congress to oppose a measure that would limit coverage for abortions that aren't lifesaving, a bill that would require abortions after seven weeks to use anesthesia on the fetus, which could cause harm to the woman, and a bill that would make it illegal to transport minors across state lines to get an abortion without written consent from both parents.
A recurring theme at the panel discussion was the importance of Sen. Joe Manchin's backing on women's issues. Manchin has voted in support of women's health, but has also voted to defund Planned Parenthood in the past. The panelists were unsure which way Manchin would vote if these upcoming bills were to reach the Senate floor.
Because Manchin's vote is so important, Thompson started "Manchin Mondays," in which supporters of women's health are urged to call, write, or even visit Manchin's office and share their opinions. One thing Thompson said that particularly has an effect is sharing stories, so she is constantly on the lookout for women and men who are willing to share their experiences with Planned Parenthood.
"It's about making the political personal," she said.
But Monday isn't the only time to be active in the government. Thompson said that Planned Parenthood is always looking for volunteers to attend lobbying meetings, visit the offices of representatives, or host events such as "postcard parties" in which people can gather to write and send postcards to their representatives.
At a happy hour before the panel discussion, held at Domestic in downtown Shepherdstown, people signed volunteer forms, wrote postcards to be sent to government officials, and discussed various political issues.
Thompson also suggested students start a campus group for reproductive rights, even saying that Planned Parenthood and other women's health organizations would gladly help fund the group and provide supplies.
The panelists said that it was easy to get involved, and all are willing to teach those who are interested about anything from women's health to getting involved in your local government.
"It's not a moment," Greene said, "it truly is a movement."
Pandora Affemann is a staff writer for The Picket. She can be reached at paffem01@rams.shepherd.edu.